Name                          :           Jangchubling Lhakhang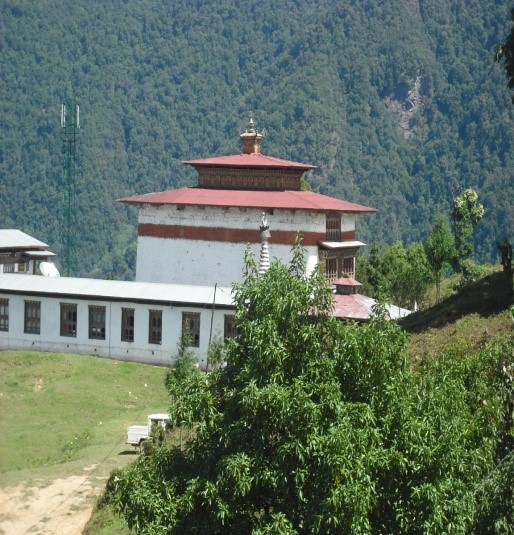 Lama                           :            Penjor Gyaltshen
       Contact No                 :           17706747
       Location                     :           Jangchuling
       Gewog                        :           Gangzur
       Dzongkhag                 :           Lhuentse
       Ownership                  :           Dratshang
      Yr of Construction      :           17th century
Brief background:
Lam Pekar Jamtsho(?-1702) was the first to construct a structure in Jangchubling in the 17th century. He was a descendant of Choeje Dupthob Chikarwa of Drukpa Kagyud sect, the temple he built was then just a meditative temple meant only for him. At that same period of time, a saint of Nyingmapa sect, called Ngawang Samten Jamtsho from Trashi Yangtse supposed to be his disciple or brethren,
was told by his root guru that his noble activities were predestined for the sentient beings of Mon Yul in the south. The Lama then took that as a prophecy from his root guru and followed his destiny towards south in accordance with the directions given by his guru. Looking at the south upon reaching Khawtangla, he found the Jangchubling area shrouded in darkness of thick fog whereby not a little area could be found with rays of sun. However, the sun's ray was found only where the tsham khang of Lam Pekar Jamtsho stood wonderfully. He thought that could be the place predestined for him and continued his journey forward with an unusual sense of happiness spontaneously arisen within him upon catching the sight at Jangchubling area.
Lama Pekar Jamtsho, through his clairvoyance, knew about his coming. He considering Ngawang Samten Jamtsho as an extraordinary man of great merit and prophesized lama had reached to certain distance for reception with tea. Though they were previously unknown to each other, the former welcomed the latter with happiness and gratitude. So many miraculous signs appeared in their meeting. He admitted that the latter would be of tremendous help to the sentient beings. At the same time, Lama  Ngawang Samten Jamtsho also informed about the prophecy given to him by his guru which made Lama Pekar renounced his meditative structure for the incoming Lama. Lama Ngawang Samten Jamtsho then built the monastery in the 20th century where the Lhakhang now stands beautifully in its pure Bhutanese architecture. Since then Nyinthig system of the Nyingma tradition had been flourishing. Around the same time, Ashi Wangmo the daughter our first monarch Gongsa Ugyen Wangchuk was just back to Bhutan from Tibet after many years of rigorous training in Buddhist philosophies under the guidance of 16th Karmapa Rangjung Rigpai Dorji. She too was devoted to religion, kind to people, compassionate to all sentient beings and committed to the spread of Buddhism. As such, she had been supporting the Lama with utmost dedication for the cause of all beings. She even expanded the monastery to the present size.
Later, because of the Chinese invasion of Tibet in 1959, the great Lamas of Tibet had to seek sanctuary outside Tibet. The 16th Gyalwa Karmapa under whose guidance Ashi Wangmo had been practicing Buddhism had to flee towards Bhutan. Ashi Wamgmo invited her root guru to Jangchubling Gonpa. Since then Kamtshang Kagyu has been flourishing from monastery. But now there are monks belonging to the Drukpa Kagyu sect with a Lama looking after the monastic affairs.
The na bza'(dress), leather boot and cap of 16th Karmapa, cup and rosary of previous Situ Rinpoche among other numerous precious relics including a statue of Tshepamey, the main relic, can be seen there.