Name                   :  Singye dzong              
Caretaker            :  Sangay tshering
Contact No          : 17561618
Location               :  singyedzong  
Gewog                 :  Khoma
Dzongkhag          :  Lhuentse
Ownership          : Government
Yr of Construction: 8th century
Brief Background:
Singye Dzong is one of the sacred places visited by Guru Rinpoche in the history of Bhutan. Thousands of pilgrims make a visit every year. It is also located within the Bumdeling Wildlife Sanctuary close to the Tibetan border. It is three day journey from the road head in Lhuentse. The closest communities to Singye Dzong are Khomagang and Denchung villages. Currently, the area has mediation center that accommodates 12 monks in a three year retreat, two main monasteries are Gawa Dzong and Singye Dzong.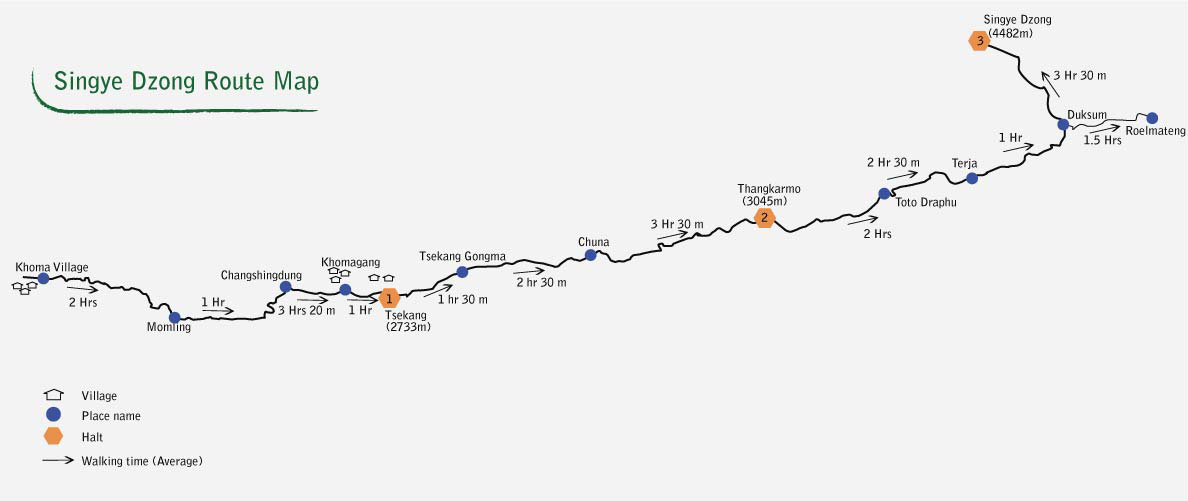 Wangla Mountain is also a sacred place where Guru Chana Dorji meditated. The surrounding around the lhakhang is very clean with beautiful flowers favorable in high altitude. The one can experience fresh air to breathe and calm place to rest. At present Singye dzong has Drupdey headed by lam and 7 monks meditating.The main relic of singye dzong is Phurpa Terma.
Singye Dzong - The mystical Lion Fortress 
A personal narrative of the journey to Singye Dzong- By Tshering Chuki Gyamtsho
A top a ridge overlooking Kurichhu river is a fortress called Lhuendrup Rinchentse Dzong – The Fortress of the Precious Peak of Spontaneous Fulfillment. According to National Library of Bhutan, the Dzong was initially constructed by Yongzin Ngagi Wangchuck in 1554, the youngest son of great Drukpa Lama Ngawang Choegyal as a meditation center. The present dzong structure, according to Legshey Phendhey Wangchuk, was constructed in 1665 during the time of Trongsa Penlop Chogyel Minjur Tenpa after which a Rabdey was instituted by 4th Desi Gyalsey Tenzin Rabgay.
According to another account, Ngagi Wangchuk first meditated at Timula. Later, when he went to look for a winter seat, he arrived at the present site of Lhuentse Dzong. The local deity appeared before him in the form of a white, bleating goat which was taken as an auspicious sign. He then built a temple and named as LeyLey Dzong (the fortress of the Goat) after the sound of the goat's bleat. Another story says that a stone below the Dzong is in the shape of goat; and it is said that this stone bleated, alluding to the Dzong's name. Another account states that below the Minjey village is a rock shaped like a frog that bleated like goat. The people considered this an unfavorable sign and shifted the site to the present site.
Later, Zhabdrung Ngawang Namgyel followed the routes of his great ancestor Yongzin Ngagi Wangchuk and visited Kurtoe Lhuentse Phodrang. During his visit, he planned to build a new Dzong but it could not be materialized due to presence of several local Kings who were not in good terms amongst themselves. Therefore, he prayed that a Dzong be built at Kurtoe Lhuentse Phodrang bringing whole of Kuri Dozhi under the control of central government in the future.
In 1654, the joint force of Gawa (King of Phagidung) and Dharma (King of Kidling) attacked Timula Dzongpoen Lhadhar for no reason. During that time, a civil war between Choetse Penlop Choegyal Minjur Tenpa and Bumthang Choekhor Dhepa had just ended and the forces of Choetse Penlop and Druk Desi were celebrating their victory. The relatives of Dzongpoen Lhadhar were aware of the presence of combined troops of Druk Desi and Choetse Penlop at Bumthang and approached Choetse Penlop for assistance. Choetse Penlop who was then well aware of Zhabdrung's prophecy to bring Kurtoe region under central government consented to their request. Whole troops of Druk Desi and Choetse Penlop marched towards Kurtoe and captured two kings bringing Kurtoe under control of central government.
Pilgrim Centers
There are numerous pilgrim centers in Lhuentse. And almost all are associated with Guru Rinpoche and Tertons. Singye Dzong, Rinchen Bumpa, Phuningla, Ney Khenpajong, and Sangwai Dadru are the sacred places while Menkhar, Karphu, Lukchu, Kuenzangling, Goshogpang, Timula, Khochung lhakhang and Dungkar Choejee Naktsang are some of the oldest lhakhangs constructed by Buddhist luminaries like Guru Chowang, Ratna Lingpa, Pema Lingpa, Khedrup Kuenga Wangpo and Yongzin Ngagi Wangchuk. Dungkar Khetangbi Naktsang, where Jigme Namgyel was born, stands in original grandeur. The 149 ft Guru statue, the would-be the tallest one in the world, is being constructed at Takila under Menbi Gewog.
Singye Dzong & Roelmateng
Description 
There are five main sacred places associated with Guru Rinpoche who brought Buddhism to Bhutan. It is called sacred place of the body, speech, mind, qualities and activity. Singye Dzong is considered the most sacred place associated with activity while other four main sacred places are in Tibet. There are eight sacred places in Singye Dzong– all described as Dzongs. One will take a day to visit all these Dzongs and another day to visit Tshokar Tshona and Terday Lhatsog. Three hours walk down towards east is the Rolmateng Ney whereby one may take another day to visit the main sacred places.
According to the description of the sacred places, a visit to Singye Dzong shall liberate oneself from being born in lower realms and fulfill whatever one wishes and prays for his life.
 Route / Lodge
The journey to Singye Dzong starts from Khomazam or Khoma village. It takes three days to reach Singye Dzong. One has to make two night halts on the way – first night at Khomagang or Tsikhang and second night at Thangkarmo. All pilgrims are advised to start early morning from Khoma on day 1 so as to reach Tsikhang before dark. To see the details of the route please visit Singye Dzong Route Map. In general the route is safe but all are warned to be careful especially at points where there are steep cliffs and a small wrong move would prove to be fatal sometimes. Thangkarmo is located in the wilderness with no villages nearby except for a small guesthouse. There is also a guest house at Tsikhang. Yet you will experience the natural music of Khomachhu as the guesthouse is just at the right bank of the stream. To avoid accommodation problems all groups are advised to carry your own tent especially during the peak season.
Travel and Health Advisory Note
All visitors must obtain a travel permit from Khoma gup and prior to obtaining the permit one must undergo proper medical checkups so as to prepare for the trip. Generally people with pressure problems and heart problems are advised to consult physicians and if they suffer from such problems they must take the physicians' advices seriously should they wish to continue on their pilgrimage to Singye Dzong. 
Anyone wishing to hire horses may consult Mr. Sithar Tshering, Gup of Khoma Gewog @ 17704198 or Mr. Pema Tshering, Mangmi @17303515 before one week in advance to make necessary arrangements.
 When to visit
May to second week of October is the advisable season to visit Singye Dzong. Last week of September to second week of October is the best season as there shall be no rainfall and snowfall. You will need to confirm on the condition of footpath should you wish to visit in the summer season.
 Climate
As the place is located at an altitude of 4482 meters above sea level, it is comparatively colder than other places. The altitude of Tshokar, Tshona and Terdag Lhatshog are even higher and has harsh climatic conditions.
 Dress
One is advised to carry warm clothes and a very good sleeping bag to Singye Dzong. The routes are mostly wet and therefore all are advised to carry a good trekking boot and a pair of comfortable walking shoes. Use of shoe gaiters is highly recommended. If you are thinking of wearing a rain-boot and you are not used to wearing one, you will have to be prepared of the pain and the blisters it will cause.