Name of School: Autsho Central School
Class Level: PP-X
Year of establishment: 1991
Dzongkhag: Lhuentse
Location: Above Lhuentse – Mongar Highway.  70 metres from high way
Area: 25.7
No. of students: 603
(Boys=274, Girls=329)
Boarder students: 440
Boys: 203   Girls: 237
Day scholar students: 163
No. of teaching staff: 28
(Male=18, Female=10)
No. of non-teaching staff: 25
(Male=14, Female=11)
Vision:
To produce patriotic and globally competent individuals
Mission:
To provide holistic education through lively environment and nurture intelligence and character in children.
 Goals:
Promote three pillars of good governance (Transparency, Efficiency and Accountability)

Create child friendly environment.

Provide the value of Bhutanese Culture and help them grow as Bhutanese

Use standard approaches to enhance curricular and co-curricular activities

Prepare children to face new life ahead of them with confidence.

Make the optimum use of resources and provide proper user education to all the school personal.

Promote sense of self-discipline and duty.                            
Infrastructure Details: (list of available facilities)
4 blocks (24 classrooms)
A football and a volleyball court
Two basketball courts.
1 unit Principal Qtr.
2 numbers of 4 units staff quarters with 2 storied(6 rooms including kitchen and toilets)
1 number of 2 units staff quarters(6 rooms including kitchen and toilets)
One library block(3 rooms)
Two science blocks with two storied(3 rooms each)
One ADM block with two storied.
One number of MPH.
1 number dining hall
1 unit Matron Qtr.
1 unit Warden Qtr.
Two Hostel blocks(96 bedded)
Two hostels blocks (120 bedded)     
Chronological order of the head of school
Mr. Kinley Dorji      (1991-1995)
Mr.Tshewang Nidup (1996-2000)
Mr.Yeshi Dorji         (2003)
Mr. Sangay Dorji      (2004)
Mr. Dorji Tshering   (2005-2007)
Mr. Nidup Dorji     (2008-2010)
Mr. Sangla            (2011-2015)
Mr. Chador Tenzin (2016....)
Sl.No

General statistics

Total

Boarder

Total

Dayscholar

Total

Grand

Class

Boys

Girls

Boys

Girls

Boys

Girls

Total

1

PP

12

16

28

5

5

10

7

11

18

28

2

I

11

13

24

5

3

8

6

10

16

24

3

II

11

18

29

6

7

13

5

11

16

29

4

III

19

21

40

6

8

14

13

13

26

40

5

IV

14

23

37

5

13

18

9

10

19

37

6

V

10

12

22

6

8

14

4

4

8

22

7

VI

14

20

34

10

15

25

4

5

9

34

Sub-Total

91

123

214

43

59

102

48

64

112

214

8

VII 'A'

13

15

28

11

14

25

2

1

3

28

VII 'B'

10

18

28

8

18

26

2

0

2

28

VII 'C'

12

17

29

12

15

27

0

2

2

29

VII D

11

17

28

11

15

26

0

2

2

28

VIIE

12

17

29

12

14

26

0

3

3

29

Sub-Total

58

84

142

54

76

130

4

8

12

142

9

VIII 'A'

13

16

29

11

13

24

2

3

5

29

VIII 'B'

15

15

30

14

13

27

1

2

3

30

VIII C

11

18

29

10

14

24

1

4

5

29

Sub-Total

39

49

88

35

40

75

4

9

13

88

10

IX 'A'

18

10

28

16

11

27

1

0

1

28

IX B

16

14

30

11

7

18

5

7

12

30

IX 'C'

17

11

28

15

11

26

2

0

2

28

Sub-Total

51

35

86

42

29

71

8

7

15

86

11

X 'A'

12

13

25

11

12

23

1

1

2

25

X'B'

12

12

24

11

11

22

1

1

2

24

XC

11

13

24

7

10

17

4

3

7

24

Sub-Total

35

38

73

29

33

62

6

5

11

73

Total =

274

329

603

203

237

440

70

93

163

603
Total Strength of Student in the Academic year 2018

Dayshcolar Boys

70

163

603

Dayshcolar Girls

93

Boarder Boys

203

440

Boarder Girls

237
Staff Statisics -2018, ACS

Teaching staff

Non-Teaching

Total staff

Male

Female

Male

Female

Male

Female

18

10

14

11

32

21

Total

28

Total

25

Total

 
Profile of Principal
Name:                        Chador Tenzin                                                      

Designation:            Principal
Grade:                       V
Home Address:
Village:                      Yangkhar
Gewog:                     Bartsham
Dzongkhag:             Trashigang
E-mail:                       chadortenzin@education.gov.bt
Telephone:              17758976
Educational Background: (please begin with your present qualification)
| | | |
| --- | --- | --- |
| Qualification | Year | Institution |
| M.Ed | 2009-2010 | Acharya Nagarjuna University, Andhrapradesh, India |
| B.Ed | 2006-2008 | Samtse College of Education, Samtse |
| Class XII- ISC | 2001 | Jigmesherubling HSS, Khaling |
| PTC | 1991-1993 | Paro College of Education, Paro |
| Class X- ICSE | 1991 | Mongar HSS |
Professional Experience: (please begin with your present post and assignment)
| | | |
| --- | --- | --- |
| Professional Experience | From – To | Place of Assignment |
| Principal | 2016-till date | Autsho CS |
| Principal | 2011-2015 | Jigmechoeling LSS, Sarpang |
| Principal | 2000-2009 | Tongmijangsa LSS |
| Headteacher | 1998-1999 | Kheni PS |
| Teacher Incharge | 1994-1997 | Kheni PS |
| Teacher | 1993 | Ramjar PS |
Profile of Vice Principal
Name:                        Hari Prasad Powdyel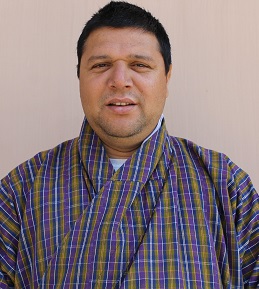 Designation:            Vice Principal
Grade:V
Home Address:
Village:                      Ngagang,
Gewog:                      Dorokha,
Dzongkhag:             Samtse Bhutan
E-mail:                       hprasadpwdyel@education.gov.bt
Telephone:              17695134/77695134
Educational Background: (please begin with your present qualification)
Qualification

Year

Institution

Master of Education

(Leadership & Management)

24/12/2011-31/01/2014

Paro College of Education

Bachelors of Education

(Secondary)

01/07/1999-01/07/2002

Samtse College of Education

Certificate (XII)

June, 1999

Punakha Higher Secondary School

 

 

 
Professional Experience: (please begin with your present post and assignment)
Professional Experience

From - To

Place of Assignment

Vice Principal

2011-till date

(7 Years)

 

Autsho Central School, Lhuentse

Teacher

2002-2010

(8 Years)

Yadi Central School, Mongar
Teaching Staff Details:
| | | | | | |
| --- | --- | --- | --- | --- | --- |
| Sl.no | Name | Qualification | Subject/ Courses taught | Years in Service | Nationality |
| 01 | Chador Tenzin | M.Ed | General | 23 Years | Bhutanese |
| 02 | Hari Prasad Powdyel | M.Ed | Bio/Chemistry | 14 Years | Bhutanese |
| 03 | Ugyen Tshering | B.Ed(P) | Geography | 14 Years | Bhutanese |
| 04 | Tashi Tshering | B.Ed(P) | General/Math | 10 Years | Bhutanese |
| 05 | Chhejay Dorji | B.Ed(P) | General/Math | 9 Years | Bhutanese |
| 06 | Tshering Wangchuk | PGDE | Dzongkha | 8 Years | Bhutanese |
| 07 | Chenda | B.Ed(S) | IT/Math | 8 Years | Bhutanese |
| 08 | Dorji Wangchuk | PGDE | English | 5 Years | Bhutanese |
| 09 | Sonam Dendrup | B.Ed(S) | Bio/Chemistry | 5 Years | Bhutanese |
| 10 | Nidup Dorji | PGDE | Economics | 5 Years | Bhutanese |
| 11 | Dechen Wangdi | B.Ed(P) | History | 5 Years | Bhutanese |
| 12 | Sonam Dorji | B.Ed(S) | Dzongkha | 4 Years | Bhutanese |
| 13 | Hem Kumar Adhikari | PGDE | English | 5 Years | Bhutanese |
| 14 | Chimi Tshewang | B.Ed(P) | General/English | 4 Years | Bhutanese |
| 15 | Kencho Tshering | PGDE | Dzongkha | 2 Years | Bhutanese |
| 16 | Tshering Phuntsho | PGDE | Biology | 2 Years | Bhutanese |
| 17 | E. Kuppan | M.Ed | Chemistry | 4 Years | Indian |
| 18 | Karma | PGDE | IT | New | Bhutanese |
| 19 | Jamyang Choden | PTC | General | 18 Years | Bhutanese |
| 20 | Sonam Peldon | B.Ed | Dzongkha | 10 Years | Bhutanese |
| 21 | Tshewang Choden | B.Ed | Dzongkha | 9 Years | Bhutanese |
| 22 | Tshering Dolma | B.Ed | General/English | 10 years | Bhutanese |
| 23 | Pema Yangdon | PGDE | General/English | 8 Years | Bhutanese |
| 24 | Rinchen Choden | PGDE | IT | 3 Years | Bhutanese |
| 25 | Tashi Yangzom A | PGDE | Counseling | 3 Years | Bhutanese |
| 26 | Ugyen Tshomo | B.Ed(S) | Geography/English | 1 year | Bhutanese |
| 27 | Sonam Choden | B.Ed(S) | Physics/Maths | 1 Year | Bhutanese |
| 28 | Pema Zangmo | B.Ed(S) | English/Geography | 1 Year | Bhutanese |
| 29 | Pema Choki | B.Ed(S) | Physics/Maths | New | Bhutanese |